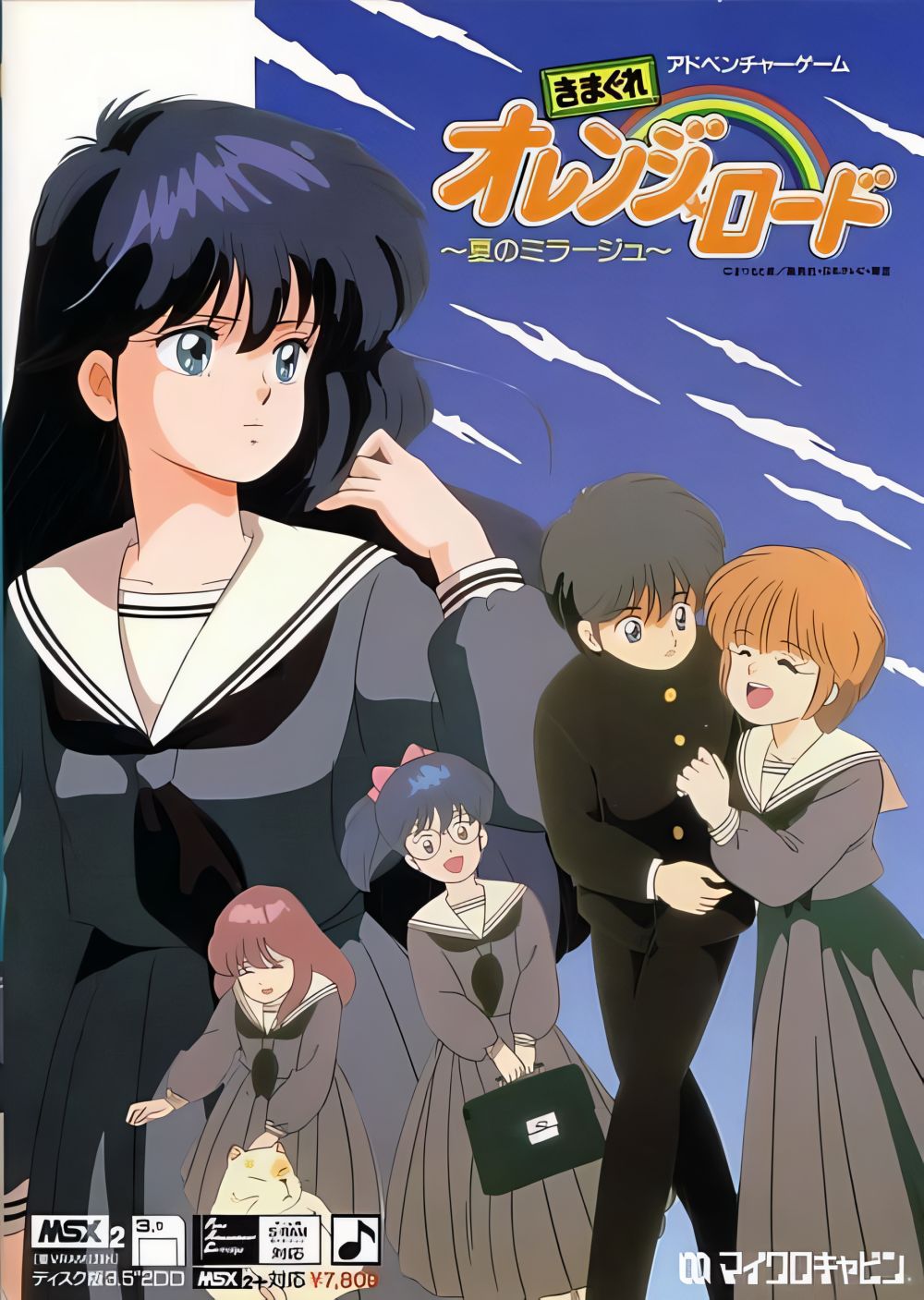 Fifteen-year-old Kasuga Kyousuke moves frequently due to his family situation. Both he and his two younger sisters have supernatural abilities inherited from their mother, the public disclosure of which forces them to relocate. On his first day in the new city, he meets a beautiful girl, catching a hat that the wind has blown off her head. He spends the entire night pondering, building himself an ideal image of her. When he starts at his new school the next morning, he immediately notices that the ideal girl who prevented him from falling asleep the night before is a student in his class and there are various rumors about her suggesting her criminal activities.
Kimagure Orange Road (1987) – Audiovisual design
Video
Kimagure Orange Road manga got an adaptation by Pierrot studio. While these days I would be heartbroken by this fact if a manga that I really liked had an adaptation by this studio, things were quite different back then. Overall, I'm still unable to say that I love the 80s character design. Although after watching this series, I can write with a clear conscience that it has its own charm and I understand why so many people love it. I still firmly contend that the peak of character design was the mid-1990s to about the end of the 2000s. I can state unequivocally that the animation on celluloid creates an unforgettable and almost irresistible atmosphere. I've only seen one anime where the animators very faithfully reproduced this style digitally. It was Nazo no Kanojo X, which just goes to show how difficult it is to achieve.
In any case, I absolutely cannot complain about the visual side of Kimagure Orange Road. The whole thing looks beautiful. Attention to detail is impressive. The animation is very pleasing to the eye, as is the color palette. All 48 episodes kept more or less the same high standard. It deserves a lot of respect, considering how expensive and time-consuming traditional animation methods were.
This can be seen really well in the third opening. It was not only great on the musical side, but also deserves attention on the side of great and creative animation and extreme even playing with perspective and three-dimensional projections of scenes using only the traditional method of animation. The video below contains all three openings (which, by the way, are worth watching). Playback should start at the right place.
Audio
The soundtrack does a great job of conveying the mood of the whole story and is very pleasing to the ear. Kimagure Orange Road received three openings and three endings. Each has its own charm, but in terms of sheer musical merit, I liked the most first (Night of Summer Side), third opening (鏡の中のアクトレス / Kagami no Naka no Actress), the first ending (夏のミラージュ / Natsu no Mirage) and second ending (Sad Heart Burning).
The main cast includes two legendary voice actors. Firsto one was Tsuru Hiromi (who could still be heard even in newer series from the beginning of the previous decade, but sadly passed away in 2017). The second one was Furuya Tooru (who is still active professionally!).
Kimagure Orange Road (1987) – Plot and Characters
Introduction
I became interested in the series because it was on the list of similar ones in a previous series I watched and reviewed (Tokimeki Memorial: Only Love). I also came across subtitles that had been corrected fairly recently by someone, so I decided to check it out. Although I don't usually venture that far into the past.
Due to the fact that I have fairly little experience with anime that premiered in the 1980s, I was expecting something vastly different from what you see in most series these days. I'll frankly admit that aside from the noticeably greater artistic freedom and sheer content evident in each episode, the handling of the storyline and characterization were surprisingly similar to such series whether from the 1990s, 2000s or 2010s. The differences were mostly evident in the way the visuals were directed or the sound direction (including voice acting). So if anyone has concerns about the issues involved, I hasten to announce that it is absolutely not a problem.
A quick look at the plot
Kimagure Orange Road starts out fairly standard. The main character – Kasuga Kyousuke moves to a new city and starts a new life at a new school. There were various reasons for this situation. Here it is about a mysterious power inherited from his mother by him and his two younger sisters. Any public disclosure of their abilities, caused an outbreak of widespread agitation among the people around them, forcing the whole family to move. This time things are a little different. The siblings have set themselves the goal of not causing more problems for their father and strongly refraining from using their skills. In Kyousuke's case, this includes teleportation and telekinesis.
Most episodes focus on the immediate school environment and the characters' casual work. There is also no shortage of standard beach episodes or a few road trips – on the plus side for me.
Kimagure Orange Road (1987) – Characters
The characters and everything related to characterization is the main charm of this title. My favorite heroine was Ayukawa Madoka. Considered by many to be one of the first characters with a tsundere character type. I for one would argue whether I would even describe her character that way. Why? Because she was basically aware of her feelings from the beginning. However, because of her friend Hikaru, she tried to suppress them within herself. Yes, we are dealing with a love triangle here,. And there's absolutely nothing wrong with it.
Over the course of 48 episodes, a myriad of characters cross the screen. The most recurring characters besides the main three and Kyousuke's sisters (Kurumi and Manami) are Yuusakku (Madoka and Hikaru's childhood classmates), two of the main character's fake classmates, his cousin Kazuya, and the owner of a cafe where basically all of those mentioned work casually. Grandparents from Kyousuke's mother's side also make episodic appearances.
His grandfather is a representative of one of my favorite trope, which unfortunately has already been irretrievably forgotten. It's about a comforting old perv who is simply impossible not to like. In each episode we also see two mysterious characters who are a running joke – Umao and Ushiko. A pair of lovers who, by strange coincidence, always find themselves in the most unexpected place. Most often at the climax of the episode, where there is the most action. In other anime (even those premiered 20 years later) more than once you could see references to this.
A little about the main three protagonists
The dynamics of interaction between the characters were presented in a really interesting way, making it very easy to get along with them. I can only imagine what kind of impression Madoka made on viewers when the series premiered. I don't think anyone could resist her mysteriousness, maturity (relative to the age she was) elegance, firmness, charming green eyes and long hair. Rarely do you see characters so cool. No wonder she attracted the main character like a magnet. Her friend Hikaru, although fully devoted and submissive was rather her opposite. She was perfect as a friend, but she didn't have that certain something about her. On the other hand, she was the main link that tied all the characters together, as one episode perfectly demonstrated.
I also liked how family life in the Kasuga family was portrayed. Relationships with his sisters or his father were very natural. There was plenty of arguing and misunderstandings, but in crisis situations everyone did their best to help each other.
Kyousuke himself is an ordinary 15-year-old boy. There is absolutely no shortage here of showing his sleazy thoughts and the internal struggle between morality and urges.
Other remarks
Most of Kimagure Orange Road's episodes depict standard everyday situations. However, there was room for a few episodes taken alive from good sci-fi stories. These mainly concerned mixing in the timeline. They were a great addition and made it possible to present situations from the characters' past in a rather interesting way.
It is worth mentioning that, unlike many other adaptations of similar stories, here we have a satisfying ending. Even if, for some reason, we choose not to watch the two films, which are sequels.
Evaluation and summary
Kimagure Orange Road emphatically made me realize that it's worth reaching even further into the past. An undeniable (at least for me) plus is that the number of episodes is not counted in hundreds. 24-48 episodes is probably the most optimal amount of time for a decent portrayal of the romantic plot and adequate showing of the interactions between the characters. This was one of the reasons why I gave this title a chance, and I absolutely do not regret it. Ayukawa Madoka jumps into the list of my favorite characters with a bang. Kimagure Orange Road is not an outstanding position.
Looking at it from today's perspective – it is also nothing revelatory, but thinking this way, we make a big mistake. First – for a story to be good, it doesn't have to be revealing at all. Second – in 1987 this title was a real revelation. I'll admit that I don't understand why Urusei Yatsura is still mentioned so often today, while there is a grave silence about Kimagure Orange Road. I definitely recommend it to any lover of such anime.
Finalny werdykt
Final evaluation
Which translation do I recommend to watch Kimagure Orange Road (1987)
Some time ago I found in one of the discussions on 4chan linked modified subtitles from [Henshin] improving quite a few things. If you search well you can find them in the /a/ archive.
Gallery