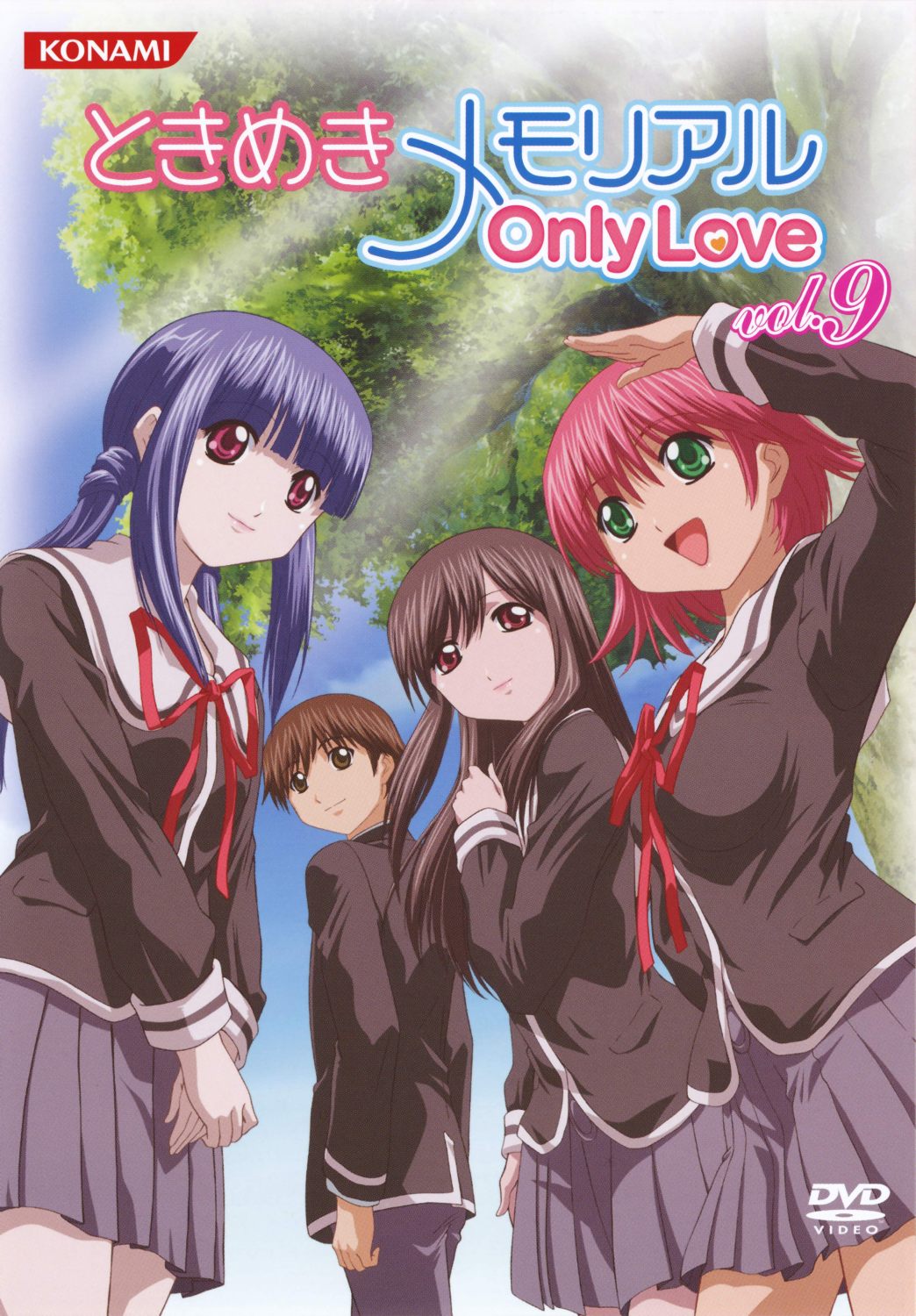 Aoba Riku has just changed schools because of his father's job. On the very first day, he realizes that this educational facility is quite different from the schools he previously attended. After all, this was not his first change of residence. The secretary controls the school and the teachers themselves are extremely eccentric individuals. Students enjoy the great freedoms that the Tsugumi High School authorities are proud of. Riku immediately arouses the interest of the student council, which decides to show him what an ordinary day there more or less looks like. He also meets a girl called Amamiya Sayuri, worshipped and even put in the role of a goddess by both the male and female parts of the students, who ultimately saves Riku from trouble.
Tokimeki Memorial: Only Love (2006) – Audiovisual design
Visuals
The animation was handled by AIC ASTA studio (I can't believe it – which incarnation of this studio is this?). While the producer is Konami (I'll talk more about this below). The visuals really pleased me. Beautiful character art, sensationally realized shading. Plus phenomenal light and color design. It is rare for anyone to pay attention to exactly this aspect. In my opinion it is an important element of the visual side. Color and light significantly affect the tone and mood of each scene. The emphasis of certain colors also reflects the state the characters are in. Tokimeki Memorial: Only Love is one of those series where this really needs to be mentioned. These elements play a significant role and give it more character. It's one of the things I strongly miss in more recent series.
Audio
The soundtrack contains quite a few distinctive tracks that. Even years after seeing Tokimeki Memorial: Only Love, will clearly remind you of it. This is the kind of thing I appreciate very much. Mizoguchi Hajime, a person also associated with Konami, is responsible for the soundtrack. Older fans of Japanese pop culture probably do not need to be reminded of the soundtracks in Konami's productions. Primarily their games.
The anime has one opening song in all 25 episodes. 予感 (Yokan) by Makishima Yuki. Voice actress who lends her voice to one of the main characters. The endings, on the other hand, are two. The first can be heard in the ending credits of the initial sixteen episodes. Specifically, it's 奇跡のかけら (Kiseki no Kakera), which literally blew me away. For me, it's one of the best songs used in OP/ED that I've heard (if not the best). Incredibly nostalgic atmosphere. Sensational vocals. Brilliantly used violin and something unspecified, almost mesmerizing and forcing me to loop it over and over again. It is worth mentioning that one of the vocalists here is Fujita Saki. The voice actress of one of the main characters (Yayoi Mina) and the original voice of Hatsune Miku.
As for the character voices, it was simply sensational (as usual). In addition to the two voice actresses mentioned above, there are other interesting names in the cast. Kadowaki Mai, Kugimiya Rie, Tamura Yukari, Iguchi Yuka, Saitou Chiwa, Miyano Mamoru, Takahashi Hiroki, Kishio Daisuke or Saiga Mitsuki. Most of them have already earned the status of legends and are still active today. Many of these names are my favorite voice actors, also in this respect Tokimeki Memorial: Only Love also shines.
Tokimeki Memorial: Only Love (2006) – Plot and Characters
Introduction
The Tokimeki Memorial series is one of the most important titles of all time . It had a huge impact on Japanese pop culture. In Japan it has gained a cult status. In the West only a handful of enthusiasts learning Japanese have had the pleasure of interacting with this work due to the fact that it has never seen a translation. A fan translation of the worst port for the SNES console has recently come out, but this translation is very far from perfect by the in-depth localization used making it a pain to read)
The origins go back to the early 1990s, where Konami released the first visual novel of this series. It had an enormous impact on the entire genre with elements of dating sim and statistics management. The history of Tokimeki Memorial and what the 1994 original (released for NEC's PC Engine console) was, deserves a separate entry. For this I would have to prepare myself decently, so that I would properly pay my respects to its creators when editing the material. Certainly someday an entry on this subject will be written. But it will be in the distant rather than near future.
A quick look at the plot
Aoba Riku has a rather difficult life. Due to the fact that the company where his father works constantly shifts him to other subsidiaries, moving has become a daily occurrence in his family. The boy is constantly changing schools, with no chance to develop any deeper friendships. Despite this, he tries to remain cheerful. After another of his transfers, he begins his studies in the second year of Tsugumi High School. He doesn't realize that this time the students both in his class and others will receive him so warmly and he will gain friends he can always count on. What he doesn't realize even more is that he will be able to find a girlfriend.
On the very first day, he notices that Tsugumi is no ordinary Japanese school. The school's authorities prioritize freedom of expression and a lack of concrete rules while sticking to tradition. Among other things, requiring school uniforms. The people who make up the student council (especially the chairman) obviously took an interest in the new face at the school, arranging an unusual welcome for Riku, which they thought would show him the school climate. Through all the commotion, the boy meets a girl called Amamiya Sayuri, who has already managed to become covered in various school legends and has gained the status of a school goddess.
General course of events
The reviewed title is entirely based on human relationships. The passage of time can be seen mainly through events taking place at school and the change of seasons. There are also the standard episodes with a summer festival and fireworks, there is a beach episode, a holiday episode, and a New Year's episode. There are also two school festivals (sports and cultural). The icing on the cake is a school trip to Hokkaido.
Tokimeki Memorial: Only Love (2006) – Characters
A plethora of side and supporting characters appear, who mostly push the plot forward, guiding the main characters on the right track. The main plot, however, is set between the boy Aoba Riku and three girls. Yayoi Mina, Kasuga Tsukasa and Amamiya Sayuri. Each of them has a different character and a completely different attitude to life. The archetypes of the individual heroines are very characteristic of the works from Konami. A few years ago I reviewed New Love Plus+, also from under their wings (also never released in the West). This title differs significantly from Tokimeki Memorial in basically every respect. However, the characters of the three heroines we can choose are quite similar.
The girls realize their feelings at different stages. How their struggles with each other are portrayed is actually the strongest feature of Tokimeki Memorial: Only Love. This also applies to the main character, who throughout is trying to sort out his feelings and understand who is important to him and who he has constantly in his heart. Because of his good-natured character, he is mindful of the feelings of others and tries not to hurt anyone. Although this does not always work out for him and we often see his immaturity and selfishness. Especially at the beginning. An important feature that distinguishes it from MCs of other series of this type is that he does not run away from his feelings and does not deny love. It's clear to see here where Tokimeki Memorial: Only Love has its origins. A visual novel, although we're not dealing with an adaptation here.
Among other reasons, this is why the ending of the series shines (although not everyone will like it) – but I'll come back to that at the very end in a spoiler.
Other remarks
The atmosphere of Tokimeki Memorial: Only Love is also largely given by the supporting characters. Doujima Kyouhei is the kind of bully who is comfortable among the quieter part of the class. Inukai Kouya a total outsider giving a menacing impression with a gentle artist's soul. At key moments he strongly helps Riku make important decisions. There are also some supernatural elements. Such as Hiyokokko – a talking chicken chick endowed with extraordinary powers, or a certain goddess chasing away evil spirits etc.
The creators perfectly balanced absurd humor (which is thrown at us at the very beginning of the first episode), everyday life, drama and romance. Nothing came out in front of the line and at the same time I did not feel that anything was missing. I'll stress it again – I really, really liked the way the characters were portrayed, what they were going through and how they tried to deal with it. My favorite heroine was Yayoi Mina. She won me over with her ability to face and be honest with herself, despite her shy and quiet nature. It made her unpretentious to fight for herself so that she would not have any regrets in the future.
The Ending
This entire subsection is one big spoiler, so I strongly advise against reading before watching the series.
Spoiler
A little more about the heroines
For the record, let me say that from the beginning I wasn't much of a Sayuri fan. My favorite was Mina. Tsukasa is more of a neutral character for me. I don't mind slightly pushy and possessive girls, if they do it from a good heart, and that's how Tsukasa was portrayed. At the same time, from the very beginning, the creators rather made no effort to hide the fact that she does not hold a special place in Riku's heart, even though she was very important to him as a person and a friend.
Going back to Sayuri – I had the impression from the beginning that she would be the main character's choice. Unfortunately, I am not fond of this type of character. Maybe character type is too general a term. I mean specific traits. Her character was really well written. I understand why it was so difficult for her to make any major decision. Because of the burden of being the perfect student idealized to the extreme by everyone, she was unable to take a step forward. Unfortunately, this did not manage to convince me of her, I prefer people who are decisive and honest with themselves. Although, on the other hand, it's not that I hated her. And here another big thumbs up for the creators. All the girls truly let themselves be liked.
Yayoi Mina was closest to me from the beginning by the way her characterization and inner transformation were executed. She was the one who became the strongest of all the heroines and remained unpretentious until the very end. Even after the fact, when Riku finally told her about his feelings she was able to pray for his happy future.
Why I find the ending of Tokimeki Memorial: Only Love so rewarding
The ending satisfied me. I think that's evident from the whole tone of my review. I was afraid it would be over-sweetened and bland. For example, by changing the decision of his family or finding some solution like renting an apartment. To be clear – such moving from place to place is destructive for growing children and young people. I will never support such a thing, no matter what the reason is. Serving such a life to your children is just asking for big problems in their adult lives. However, since the creators made such assumptions, I think they got out of it well, while also having guts. I don't know if something like this would pass in this day and age.
The ending is left half-open. The viewer's task is to flesh out the rest of the story, knowing the main character's chosen one. In this case it worked really well. Thanks to this, it will definitely remain memorable rather than something over-sweetened or, even worse, completely open-ended.
[collapse]
Evaluation and summary
I realize that many people will not share my enthusiasm and will not be able to appreciate Tokimeki Memorial: Only Love for these aspects as I do. However, this is my review, and I'm glad that I was given the opportunity to find another such gem. I love series whose plot is driven by characters. Once you become intimate with the characters (and that was very easy for me in this case), the whole thing takes on a completely different vibe.
This, among other reasons, is why I fell so much in love with Japanese storytelling. The ending itself will probably also be the reason why quite a few people will give it a low rating. However, I liked it because of how it was executed, it will stay in my memory for a long time. The audiovisual design and voice actors further add value to Tokimeki Memorial: Only Love. My rating: 9/10.
I did not expect a review of this anime to contain so much content. As I began to put together my thoughts in my head while preparing the materials for the entry, it occurred to me that this title would require a longer post. Well, that's exactly what happened.
Which translation do I recommend to watch Tokimeki Memorial: Only Love (2006)
C1Anime – great translation, just like in the good old days. Includes some notes for those less familiar with cultural issues. I don't have much to complain about.
Gallery