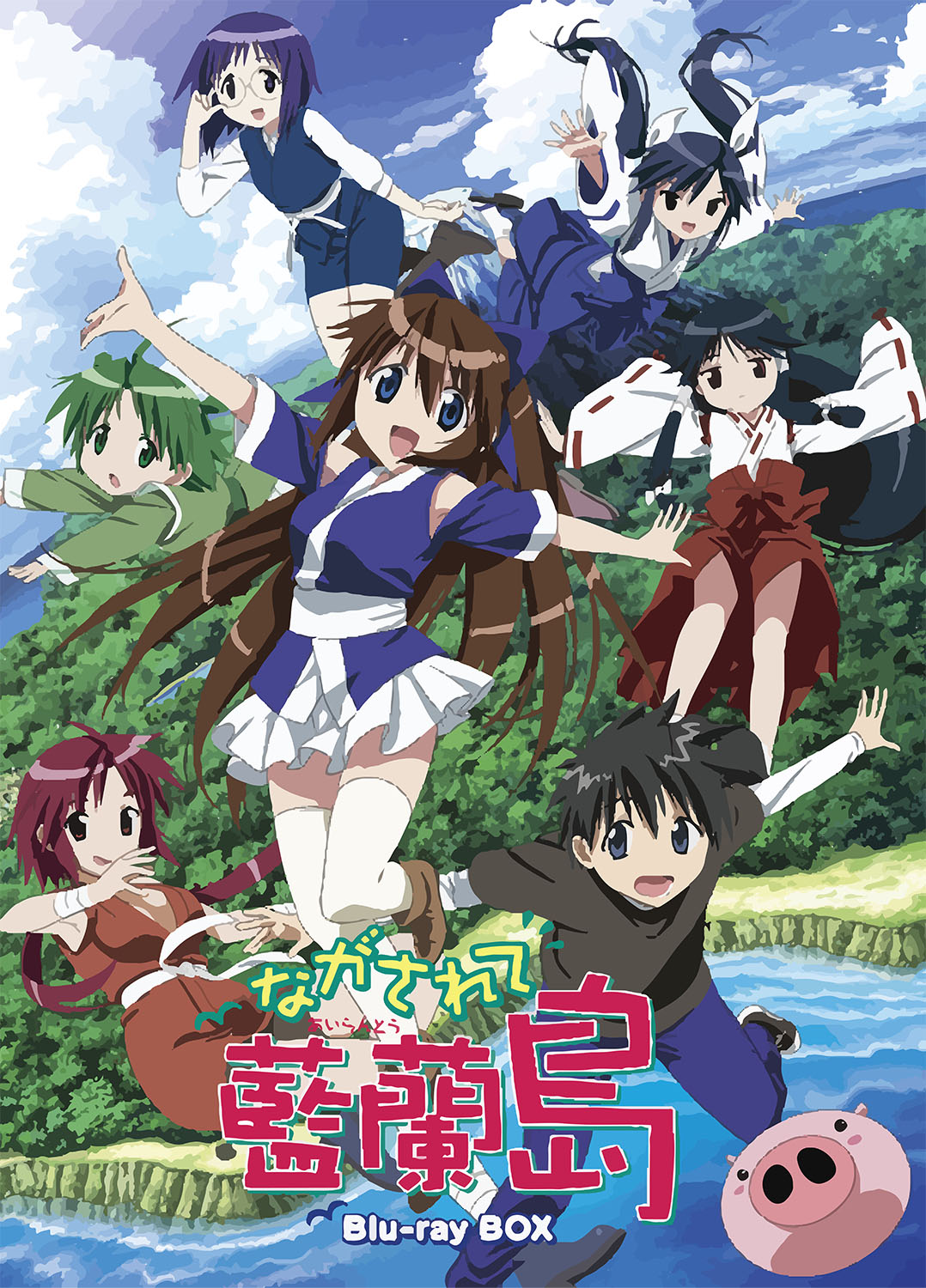 Touhohin Ikuto has a fight with his father that led him to make a rash decision to run away from home. He boards a ship, deciding to go on vacation alone, but the ship unexpectedly gets damaged by a powerful storm. After regaining consciousness, he realizes that he is still alive and has found himself on an isolated island. Soon after, he notices that the residents are exclusively beautiful girls.
Nagasarete Airantou (2007) – Audiovisual design
Video
Studio Feel is responsible for the adaptation. Visuals really impressed me. The amount of detail is impressive in basically every scene. The animation, on the other hand, deserves a few words. I couldn't get out of admiration how much heart was put into making the whole thing dynamic. A lot of hacks have been used here, which give the impression of incredible dynamics. What's important – they are so perfectly executed that it's simply a pleasure to look at it.
One can also observe various types of character design deformations, perfectly emphasizing the emotions expressed by each character. This is one of the elements rarely used these days, which I really miss. In addition, I really liked the design of the characters, the way the eyes looked and the backgrounds themselves perfectly conveyed the atmosphere of a small deserted island and pleased the eye.
How the animation in each episode has been executed is perfectly demonstrated by the opening, which I've dropped below.
Audio
The soundtrack fits perfectly with the atmosphere and comedic nature of Nagasarete Airantou. It's not something I'd return to often, but in the series itself it often drew a positive attention to itself. The series is 26 episodes long, creators did not choose to change the opening around the middle, as is usually the case. Fortunately, because Days, performed by Horie Yui, jumps into the list of my favorite openings of all time. The case is different with the endings. There were three of them, of which I liked the first one the most – Say Cheese!, also performed by Horie Yui.
Speaking of Hora Yui, she also lent her voice to the main character – Suzu. She is definitely one of my favorite voice actresses. Here, too, she did not disappoint. It doesn't stop there, of course. The cast includes such names as Takahashi Mikako, Shiraishi Ryouko, Chiba Saeko, Nabatame Hitomi, Watanabe Akeno and Itou Shizuka. New fans may not be familiar with these names, but there were stars of those years.
Nagasarete Airantou (2007) – Plot and Characters
Introduction
The series is set on a desolate island, completely cut off from the outside world both from inside and outside. The village where the main character ends up is one of my favorite settings. A small coastal village hiding a lot of secrets.
At first glance, Touhohin Ikuto ends up in Paradise after a shipwreck. He becomes surrounded by young women all alone. The reality is a little different, however, as none of the island's female residents have ever seen a man before. The upshot of this is that they are getting crazy about Ikuto, thus causing him a lot of problems.
A quick look at the plot and characters
Nagasarete Airantou creator doses new characters quite skillfully. In the beginning we get to know only a few heroines and other islanders. But every few episodes someone new appears. The appearance of new characters is also a major indicator of the progression of the story. The events presented in each episode are a well-executed slice of life that would be difficult to arrange chronologically without it. Not counting the ending, where a lot of progression takes place, as far as the main plot is concerned.
Ikuto has a whole range to choose from of basically all the most popular female character types featured in Japanese pop culture. The diversity is so great that there is no room for boredom. Nevertheless, it was Suzu who was made into the main and final heroine from the very beginning. Her character type is a childhood friend, which was a rather unusual choice.
Ikuto is a boy guided by logic. He doesn't acknowledge paranormal phenomena, doesn't believe in folk tales, and there is no such thing as impossible for him. At every turn, he experiences a variety of phenomena that he cannot explain, effectively denying them. He considers animals that use the Japanese language to be the next stage of evolution. Explains supernatural phenomena by fatigue. He does this in a humorous way and it often brings a smile to the faces of the girls around him. Ikuto tries not to be a burden to the residents and tries to help as much as he can. Being used to the technology around him, he is not able to do much at first. This does not stop him from learning new things.
Interesting facts
Many animals have funny names. The little piglet (Suzu's pet), is named Tonkatsu. What is tonkatsu? It's a pork loin taking the form of a cutlet or baked pieces enveloped in panko. This is not the only case, as the representative of the chicken family was named Karaage. Karaage is brilliantly cooked chicken meat. There is also a fish proudly carrying the name Sashimi. A generic name for the specific serving of various kinds of raw meat (usually fish).
Quite a lot of scenery characteristic for Japan has been packed on the island itself. The central place is occupied by a volcano whose name is not hard to guess (Fuji).
Other remarks
I was also very positively surprised by the fact that the stories presented in each episode touched on problems or events involving different heroines. Thanks to this distribution of screen time given to the girls, they did not seem like background fillers. Rather, they were characters with a real impact on the main character and the development of his character.
The series does not exhaust the source material of the manga. Although the ending gives the impression of completion, the story continues. You can start reading the manga after finishing the anime adaptation from chapter 48, which is what I plan to do.
Evaluation and summary
Nagasarete Airantou is mainly an enjoyable comedy, although there is no shortage of more serious, emotionally evocative threads. The comedy themes here are executed in an exemplary manner. Combined with dynamic and creative animation, each episode was able to make me laugh, keep my attention uninterrupted, and grow increasingly close to the characters.
If I wanted to show someone the 2000s anime in a nutshell, Nagasarete Airantou would be one of the top candidates to suggest. So far, I can't get over how well the creators managed to pack in basically everything I appreciate most in anime from that period. Starting with the visuals and characters themselves, and ending with the directing and world-building style. I enjoyed the series so much that I decided to dose myself with each subsequent episode. I watched Nagasarete Airantou the way it was when it premiered. One episode per week. This allowed me to adequately enjoy the whole thing over the course of 26 weeks without the familiar (probably for many) feeling that something so good would end too quickly.
Finalny werdykt
Final evaluation
Which translation do I recommend to watch Nagasarete Airantou (2007)
Orphan-Polished – revised Ayako subtitles. Great translation, where I could only pick on minor cosmetic details. Definitely the best option for this series.
Gallery