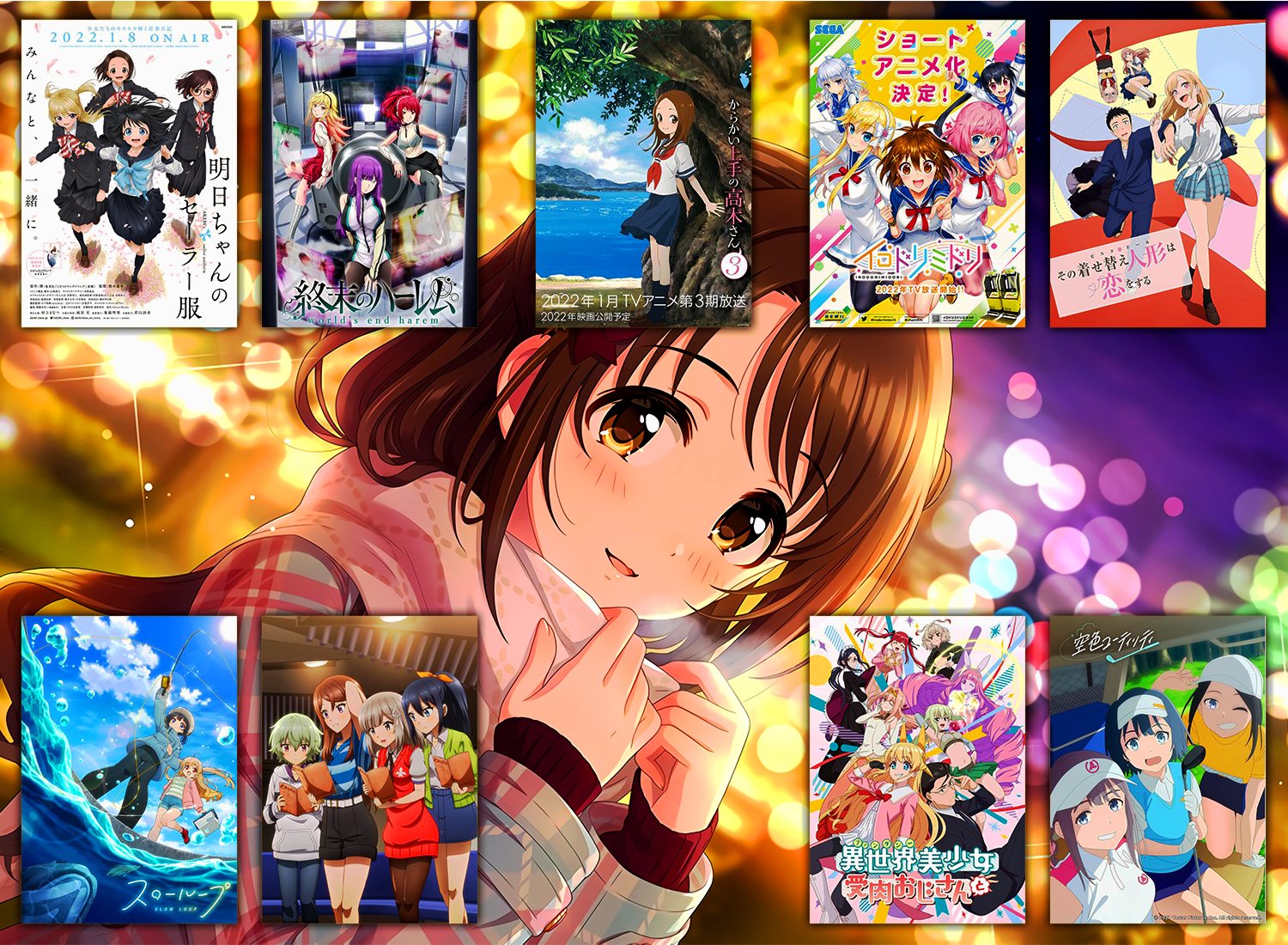 Winter 2022 Anime
Another year has passed. It's January now, so it's time to prepare a seasonal recommendation – winter 2022 anime series.
First, a quick recap of the previous season. I recommend checking out the linked post, as here I will list the best fall series very briefly (you can also see the final commentary and rating for each series listed in the aforementioned post about the previous season).
The disappointment of the season?
Komi-san wa, Comyushou desu -I'll probably be in the minority, but after a few episodes the whole thing started to bore me (annoying characters like Agari Himiko or Yamai Ren didn't help either). Although I can't pinpoint specific reasons, I just wore it out by the end. On the plus side, there are some great wordplays at every corner and in all this repetitiveness there is a lot of subtle humor that requires connecting a few facts and at least basic knowledge of Japanese.
Preliminary expectations for the Winter 2022 Anime Season
I would like to point out that this entry will be updated as the first episodes are released. Descriptions, my opinion and screenshots will be available as usual, so I recommend peeking here more often. PVs (preview videos) are listed under the next heading. Source of the image used in the banner above @izumi_morikubo.
I don't know what happened specifically, but I can't remember the last time I had so few series to watch. Especially after how good last winter was.
Akebi-chan no Sailor-fuku – I'm keeping up to date with the manga, I really hope Cloverworks doesn't screw this up, because the source material is a downright masterpiece. The PVs look great (though still far from the level of artistry of the manga here). Anyway, one of my most anticipated series of this season. Karakai Jouzu no Takagi-san 3 – At this point, I don't think I need to convince anyone – the third season of a brilliant series. Once again Shin-Ei Animation is in charge, so I am pretty confident about the quality and execution. Another positive thing is that the title is no longer exclusive to Netflix (as season 2), which will certainly result in an incomparably better official translation. Shuumatsu no Harem – I'm reading the manga and have high expectations for this adaptation. Although the duo – Studio Gokumi and AXsiZ – rather don't fit this genre for me (although I respect both studios a lot). CUE! – A series about voice actresses? Definitely it's in my circle of interest. Two studios are responsible for the production (I've seen one title from each of their works) – Graphinica and Yumeta Company. IRODORIMIDORI – Looks like an interesting series about idols. The PV itself reveals a lot – the visuals and animation will be great, and the guitar riffs used in BGM are very reminiscent of old Sega game soundtracks, so I assume that the music will be good as well. It's supposed to be an eleven-minute title. Unfortunately at the moment I can't find anywhere which studio will be responsible for animation. Sono Bisque Doll wa Koi wo Suru – a lot of people praise the source material. Unfortunately I haven't had a chance to review it, but the poster and PV look interesting enough for me to give this series a chance. The production is handled (once again) by Cloverworks. Slow Loop – sA series about fishing. What charmed me about it (even though the theme doesn't interest me at all)? Idyllic atmosphere of a small town, great song that will be used as the opening in the second PV and very nice character design. I completely didn't recognize the studio from the name Connect, however, after a quick glance at the list of their works, I noticed that they had a few series that I really liked (e.g. Senryuu Shoujo). Fantasy Bishoujo Juniku Ojisan to – I added it to the list because of such a shortage of interesting series this season. Maybe this isekai will turn out to be one of the enjoyable ones. I have no idea where OLM Team Yoshioka studio came from, but I assume it's just a branch of OLM. Sorairo Utility – a series about girls who play golf. Unfortunately, from the information I managed to find it seems that it is supposed to be one fifteen-minute episode, the director himself mentioned it, but not directly (he only said that it was supposed to be a ten-minute project, but it's going to be fifteen minutes long – from this information nothing is clear – whether it's about the length of individual episodes or the fact that the whole thing will last 15 minutes).You can't conclude much from Yostar Pictures studio's little work record either.
Two more things:
Why do I always start my descriptions with the visuals? Because it's usually the first thing we see and especially in the case of the first episodes – it's what's memorable the most.
Why am I not describing/watching the X series? After all, it's so cool and all. I don't know what's going to be a commercial hit now, but since I didn't list it in my post, it means I don't care about that anime at all. I don't list such series because I don't have the time to watch them – thus I don't recommend them – because as I've mentioned many times before – I only recommend what interests me.
A proper preliminary summary of the Anime Winter 2022 season
It's time for a proper preliminary summary of the Winter 2022 Anime season, starting with the series I'm most looking forward to, ending with those I'm indifferent to (some of them may turn out to be a complete waste of time – if that happens, the title will be marked accordingly below – if it happens that a series ends up in the abandoned list after just the first episode, I won't review it at all). Short series will not be reviewed (those with episodes of up to 8 minutes), although I will list them (unless something I particularly like). It may also happen that some titles will be added. A quick legend: no color means that the series hasn't been covered yet (most probably it didn't have its premiere), while no color with the word drop – series abandoned after 1 episode:
Leftovers from last season:
Maiko-san Chi no Makanai-san
Once again, I would like to remind you of the fact that descriptions, pictures, and my opinions about the Winter 2022 Anime will appear on a regular basis as the first episodes are released. Order of descriptions below = order of episode premieres. The full schedule for the Winter 2022 anime season can be found here, for example.
As in the previous season's entry, below the description of a given anime will appear my rating (according to the scheme available below) after the first and last episode:
Yes – I believe that the production is noteworthy.
Not quite –In the case of the first episode, it usually means that not enough of the plot was shown in it to recommend the series. In the case of impressions after the last episode – the series is average and can be skipped.
No – I don't recommend it, it's a waste of time.
As always, I'll also report on the quality of the translation. If there's a better alternative to the official subs from Crunchyroll or Funimation (and thus SubsPlease) for a given series, I'll make a note after the first episode.
Descriptions, screenshots and reviews of the Winter 2022 Anime season

Karakai Jouzu no Takagi-san 3 / からかい上手の高木さん3
Nishikata is the most ordinary of ordinary boys attending an ordinary school. However, he has been having a problem with his female classmate for some time now. Takagi uses every possible moment to tease Nishikata. But Nishikata doesn't give up, and tries to make new plans to get back at her.
Season 3
Do I recommend it after the first episode? Yes – I have the impression that the visuals have changed a bit. The color palette seems a bit more pastel to me. Anyway – every other aspect of the series remained the same and that's great news, despite appearances. Takahashi Rie and Kaji Yuuki showed their skills again. I look forward to the next episodes.

Shuumatsu no Harem / 終末のハーレム
Mizuhara Reito learns from his doctor that he has cellular sclerosis. He suggests he hibernate for five years, as the advanced AI that humanity has access to is close to finding a cure for this severe condition. The boy decides to hibernate, but before he does, he wants to deal with some unfinished business. One of them is to confess his feelings to his childhood friend named Erisa. The day of hibernation arrives, Reito says goodbye to his family and Erisa. The next thing he sees is a world five years later that has changed beyond imagining. His guardian, Suou Mira announces to him that there are only five men left in the world who were in hibernation. The rest died infected by the mysterious MK Virus that leads to the death of male individuals in a few days. Additionally, she informs him that the boys born with the genes of the surviving males, whose pregnancies occurred naturally, have an innate immunity to the deadly virus and they are the only hope for saving the human race, so he must take on the challenge of impregnating the women who volunteered of their own free will.
Do I recommend it after the first episode? Yes – I'm up to date with the manga. The first episode is a very good adaptation of the source material. The description may foreshadow that sex is the only purpose of this title and there's no plot, but I can assure you that yes – there's quite a bit of it, the plot gradually picks up pace and gets really interesting. Visually, however, something doesn't sit well with me, and it's certainly not a matter of me comparing the quality of the drawing with the manga (obviously the source material is better in this regard), but something doesn't quite feel right with the proportions of the characters in at least a few scenes. The style itself is thankfully quite similar (though poorly detailed). I hope it continues to get better in this regard, especially since this series was postponed from the fall. For now, I'm positive about this adaptation, looking forward to more episodes.
Istnieją dwie wersje – jedna oficjalna z cenzurą (tak jak normalnie w japońskiej TV) oraz wersja bez cenzury z AT-X (niestety z dużo gorszą jakością obrazu). Pierwszy odcinek to zaledwie kilka krótkich urywków, lecz w kolejnych będzie tego na pewno więcej więc… pick your poison. Są również 2 oficjalne tłumaczenia – jedno z Muse Asia, drugie od CR. Obie opcje są bardzo dobre, lecz osobiście wybrałbym tę od CR z racji tego, że timing jest lepszy i choć minimalny typesetting.

Cue!
Mutsuishi Haruna has always wanted to become a voice actress, ever since she was a little girl she played various character roles along her favorite seiyuu while watching anime at home. Her dream finally comes true, she gets a response to a request to work with a newly formed voice actress agency, AiRBLUE, which plans to hire people with no prior commercial experience and turn them into professionals. Nervous, she arrives at the venue an hour early. She is spotted by the manager preparing a room where all the girls looking for work as voice actresses are supposed to meet. After everyone arrives, there is a change of plans. Their trainer announces that everyone will act out a short scene from Hamlet in pairs. The girls are horrified to discover that they are unfamiliar with the work, but they are asked to give their own interpretation, expressing themselves and showing their strengths…
Do I recommend it after the first episode? Yes – I'm surprised how well the directing of this episode was done (hopefully not just the first one). Especially since the original is a smartphone game. The whole thing went by very quickly. The animation looks pretty decent – as does the quality of the drawing itself.The cast of voice actors includes a lot of debuts (at least in anime), and a lot of people with not much experience, so just like the characters themselves. I really liked how Hamlet's scene with Ophelia was portrayed. The first couple acted the whole thing out exactly as they would in the theater, but the main character and her friend used completely different emotions and intonations, which completely changed the tone of the whole thing and gave a spirit of hope. It just show that watching foreign media dubbed is always the worst possible option. The series is supposed to be 24 episodes long, and after the start I have pretty high expectations.
BTW, was it only me who had an impression that there were a lot of references to Xenoblade 2?

Slow Loop
Minagi Hiyori loves fishing. She inherited this passion from her father, who died several years earlier. One day in March, as usual, she takes her equipment to the nearby coast and casts her rod into the sea waves. After a few hours, she notices the unfamiliar face of a girl who, seeing the sea for the first time, wants to jump into it. Hiyori stops her, realizing how cold the water still is at this time of year. After a brief conversation, the stranger reveals that her name is Koharu and she would like to try fishing. After exchanging a few words, they notice a strange coincidence – both of them do not have one parent and both of them have a meeting with their new families that day. As coincidences do not exist in this world, Hiyori and Koharu become sisters and share a passion for fishing and preparing fish.
Do I recommend it after the first episode? Yes – I enjoyed watching the opening episode. As I've already mentioned on the occasion of Houkago Tiebou Nisshi – fishing doesn't interest me, but if the series is executed decently, this fact doesn't affect my reception. This is also the case here. The visuals please the eye, as does the animation itself. The voice actresses of the main characters are great, even though Kusumi Rin (Hiyori) is just making her anime debut, and Hioka Natsumi (Koharu) has a rather small body of work – at least when it comes to anime roles (Eniwa Shii from Super Cub). It's nice to see another manga adaptation from Time Kirara's Maga magazine.
I recommend the corrected subtitles from LoopSubs.

Akebi-chan no Sailor-fuku / 明日ちゃんのセーラー服
Akebi Komichi has always dreamed of wearing a sailor's school uniform, but unfortunately more and more schools these days are abandoning their traditions. That's why she decided to go to Ryoubai High, a prestigious girls' school that her mother attended, where this tradition is kept alive. As her mother is also a dressmaker, she plans to sew it herself, relying on a pattern from her time. At the opening ceremony, however, it turns out that the Ryoubai board of directors had simplified the design of the uniforms a few years earlier, and now the girls wear simple blazers. However, the headmistress of the school, remembering her mother and seeing Komichi's fascination with sailor uniforms, allows her to wear the classic uniform…
Do I recommend it after the first episode? Yes – the series I've been looking forward to the most this season, because I absolutely love the source material. The opening episode is an adaptation of about half of the first volume. I had a lot of concerns, especially about the visuals, as the manga is also a masterpiece in that regard. While I still consider the artwork in the source material to be superior and more detailed, I have to admit that the transfer of the manga panels to animation was phenomenal. The detail of the animation, character designs, as well as the environment (the composition of which is way above standard) is impressive. Studio Cloverworks and its team working on this adaptation have hit the nail on the head and brought out the essence of Hiro's (the original author) style – you can see it in almost every scene. Murakami Manatsu, despite her limited experience in anime, perfectly captured Komichi's character – it's almost exactly how I imagined her voice while reading the manga. I'm waiting impatiently for the next episodes.

Sono Bisque Doll wa Koi wo Suru / その着せ替え人形は恋をする
Gojou Wakana has been fascinated by the art of making hina, a traditional Japanese dolls – since he was a child. This passion was passed on to him from his grandfather, who taught him this craft. Unfortunately, it required full dedication, which is why he did not have any friends until he started high school. A few girls attend his class. In this group, the beautiful Kitagawa Marin seems to lead the way, around whom all the rest gather. Wakana treated such people as visitors from an alien planet, at least until fate brought their paths together. One day the sewing machine in his house breaks down due to its age. The boy decides to use the equipment available at the school's sewing club to finish the latest outfit he has been working on for a long time. At one point, Marin opens the door, notices what Wakana is working on, and is taken aback by his peculiar interest. When she learns that the boy has a clue about sewing clothes, she asks him for a favor to sew the outfit of her favorite anime character, since she loves cosplay, but unfortunately her sewing skills limit her…
Do I recommend it after the first episode? Yes – I chose the series because I liked the poster, but I was also curious why there was so much hype around the source material by the time it was released. I think I figured that out after watching the first episode. While the main character is nevertheless a bit annoying, Marin charmed me strongly basically from the very beginning. I'm not entirely sure what direction the story will take, but at this point I have high expectations. On top of that, while it's clear that most of Cloverworks' manpower was invested in the Akebi-chan adaptation, but the whole thing looks good enough here as well. You can see that they saved on backgrounds in places, but the characters themselves, their detail and animation look more than decent.
Best Openings and Endings – Winter 2022 Anime Season
It's similar to the year-end recaps, namely – I recommend what I consider awesome in my opinion. Below is a list of my favorite songs from the openings and endings (all of them I consider noteworthy, but the ones I particularly love are marked in bold, while the ones I consider as even more outstanding are marked in green, bold font). The scheme is clear, but I will clarify it:
Artist – Title (Artist in romaji – Title in romaji) | Anime Title
Openings:
AiRBLUE – スタートライン (AiRBLUE – Start Line) | CUE!
ぽかぽかイオン – やじるし→ (Pokapoka Ion – Yajirushi→) | Slow Loop
大原ゆい子 – まっすぐ (Oohara Yuiko – Massugu ) | Karakai Jouzu no Takagi-san 3
増田俊樹 – Midnight Dancer (Masuda Toshiki – Midnight Dancer)| Koroshi Ai
蠟梅学園中等部1年3組 – はじまりのセツナ (Gakuen Chuutoubu 1-nen 3-gumi – Hajimari no Setsuna) | Akebi-chan no Sailor Fuku
H-el-ical// – JUST DO IT | Shuumatsu no Harem
スピラ・スピカ – 燦々デイズ (Spira Spica – Sansan Days) | Sono Bisque Doll wa Koi o Suru
JUNNA – 風の音さえ聞こえない (JUNNA – Kaze no Oto Sae Kikoenai) | Sabikui Bisco
Endings:
AiRBLUE – はじまりの鐘の音が鳴り響く空 (AiRBLUE – Hajimari no Kanenone ga Narihibiku Sora) | CUE!
あかせあかり – 恋ノ行方 (Akase Akari – Koi no Yukue) | Sono Bisque Doll wa Koi o Suru
メイビーME – Destiny (Maybe Me – Destiny) | Kaijin Kaihatsubu no Kuroitsu-san
Luce Twinkle Wink☆ – "FA"NTASY と! (Luce Twinkle Wink☆ – "Fa"ntasy to!) | Fantasy Bishoujo Juniku Ojisan to
高橋李依 – 学園天国 (Takahashi Rie – Gakuen Tengoku) | Karakai Jouzu no Takagi-san 3 ED4
高橋李依 – じょいふる (Takahashi Rie – Joyful) | Karakai Jouzu no Takagi-san 3 ED5