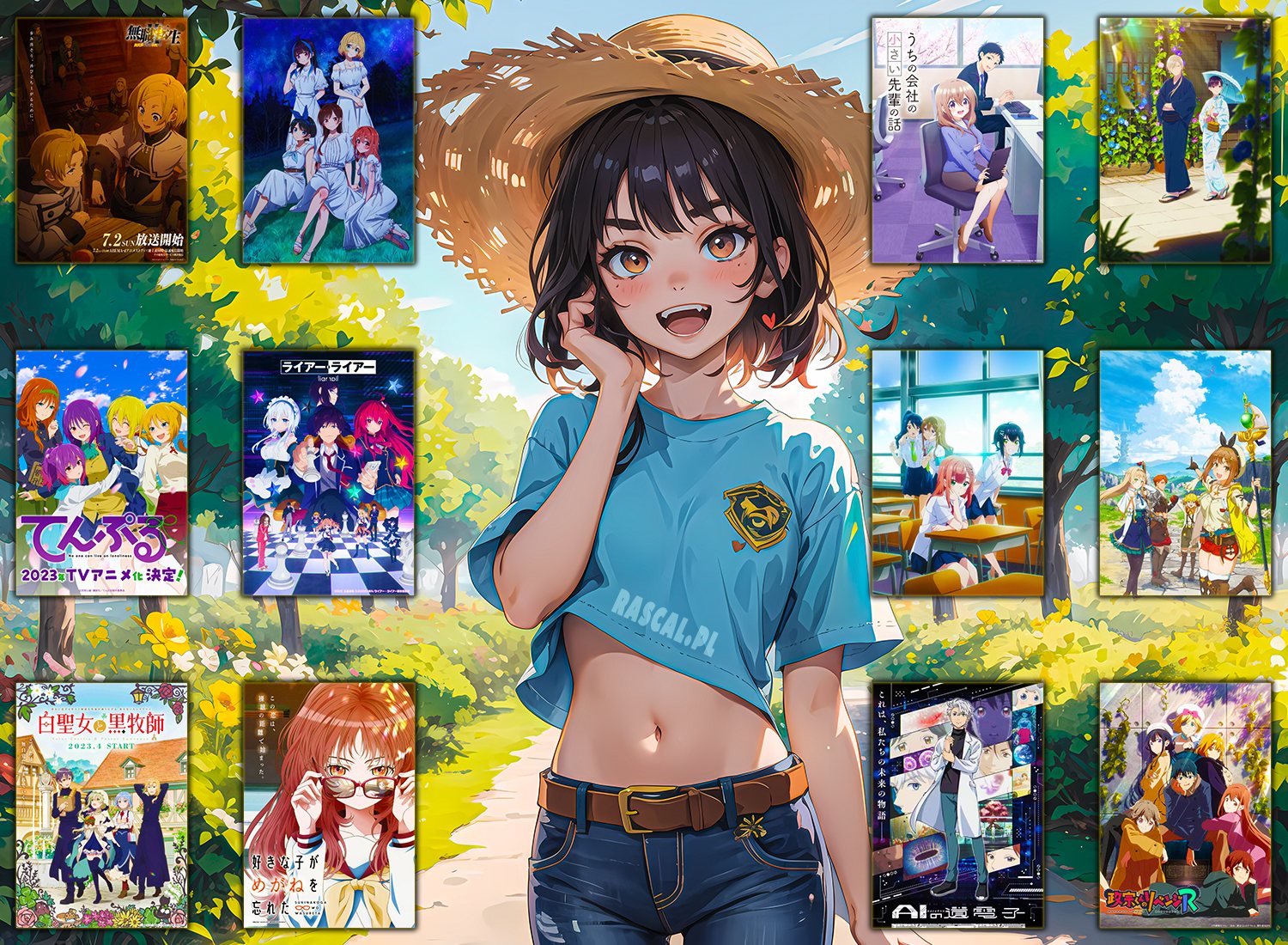 Behind the window the unmerciful heat makes it known that it is time to write a summer recommendation. After the abundance served up in the spring, the next season gives some rest. However, this does not mean that the summer 2023 anime season will lack interesting titles. This time I managed to choose twelve series that seem interesting enough for me to check out.
Spring Season Summary
At the very beginning, a brief summary of the previous season. I recommend that you read the linked post, as here I will list in a nutshell the best summer series, which I would consider a waste to omit. The final commentary and rating of each series listed can also be seen in the aforementioned post on the previous season. If I have decided to review a particular title individually, it will be linked below.
The disappointment of the season?
Preliminary expectations for the Summer 2023 Anime Season
I would like to point out that this entry will be updated as the first episodes are released. Descriptions, my opinion and screenshots will be available as usual, so I recommend peeking here more often. PVs (preview videos) are listed under the next heading.
Two more points:
Why do I always start my descriptions with the visuals? Because it's usually the first thing we see and especially in the case of the first episodes – it's what's memorable the most.
Why am I not describing/watching the X series? After all, it's so cool and all. I don't know what's going to be a commercial hit now, but since I didn't list it in my post, it means I don't care about that anime at all. I don't list such series because I don't have the time to watch them – thus I don't recommend them – because as I've mentioned many times before – I only recommend what interests me.
My Summer 2023 Anime and PVs List
Leftovers from last season:
Information about the content of the post
Once again, I would like to remind you of the fact that descriptions, pictures, and my opinions about the Winter 2022 Anime will appear on a regular basis as the first episodes are released. Order of descriptions below = order of episode premieres. The full schedule for the Summer 2023 anime season can be found here, for example.
As in the previous season's entry, below the description of a given anime will appear my rating (according to the scheme available below) after the first and last episode:
Yes – I believe that the production is noteworthy.
Not quite –In the case of the first episode, it usually means that not enough of the plot was shown in it to recommend the series. In the case of impressions after the last episode – the series is average and can be skipped.
No – I don't recommend it, it's a waste of time.
As always, I'll also report on the quality of the translation. If there's a better alternative to the official subs from Crunchyroll or Funimation (and thus SubsPlease) for a given series, I'll make a note after the first episode.
Descriptions, screenshots and reviews of the Summer 2023 Anime season
---
Ryza no Atelier: Tokoyami no Joou to Himitsu no Kakurega / ライザのアトリエ ~常闇の女王と秘密の隠れ家~
Reisalin Stout, known as Ryza, lives on a cut-off island where people lead boring but peaceful lives. However, the girl has no intention of living to old age doing what others do. She wants to experience adventure and leave the island in search of new experiences. She persuades her two friends called Tao and Lent to do so. They soon decide to go on an expedition. They find an abandoned boat and set out on an adventure. During the exploration, Ryza meets a man named Empel – an alchemist who inspires her with his skills. The girl wants to follow in his footsteps and learn alchemy.
Do I recommend it after the first episode? Yes – I did not expect such good visuals. Admittedly, the PVs suggested that the whole thing would look nice, but it was even better than I expected. The opening episode has a doubled running time (48 minutes). Everything else sticks fairly faithfully to the events of the game, while adding a few scenes from the perspective of other characters. Great opening (both the animation and the song).
---
Uchi no Kaisha no Chiisai Senpai no Hanashi / うちの会社の小さい先輩の話
Shinozaki Takuma is starting work at a new company. He is lucky because his senpai is the kind and charming Katase Shiori, who has taken the care of her junior colleague very seriously. The two quickly find common themes, making their cooperation perfect, which their supervisor is very happy about.
Do I recommend it after the first episode? Yes – A really good start. Shiori's reactions are super-sweet. Tachibana Hina, the seiyuu lending her voice may not have much of a track record, but she played the role perfectly. This is exactly how I imagined her voice to be while reading a few chapters of the manga. I look forward to the upcoming episodes.
---
Mushoku Tensei II: Isekai Ittara Honki Dasu / 無職転生 II ~異世界行ったら本気だす~
A thirty-four-year-old man dies in a car accident while rescuing a stranger. Reconciled to death, however, he regains consciousness as a newborn in a completely unknown world, where the use of magic is commonplace. Taking advantage of the fact that he has managed to retain his memories of his previous life, he begins to train in the art of magic from childhood. When his parents discover his talent, they immediately decide to hire a powerful magic teacher to help their son develop his skills. That magician turns out to be a young looking girl – Roxy Migurdia.
Sezon 2
Do I recommend it after the first episode? Yes – Season two began with a special episode. It showed what happened to Sylphie after the known event. The animation and drawing quality continue to impress. As are all the other aspects, led by the voice acting. I'm looking forward to the next episodes. I must also point out that the western got a censored version. Apparently, this was a deliberate act by the Bind studio, considering how many oversensitive tourists project their problems onto others, while being unable to separate fiction from reality. Censorship in this case was not limited to black bars or the so-called dark void. The whole sequence looked different, significantly changing the perception of the characters involved.
I strongly recommend subtitles from MTBB (necessarily 2nd track subtitles).
---
Yumemiru Danshi wa Genjitsushugisha / 夢見る男子は現実主義者
Sajou Wataru is deeply in love with his beautiful classmate, called Natsukawia Aika. The boy consistently expresses his interest in her. Unfortunately, he faces a rather chilly rejection each time. Deep down Aika is interested in him, but her tsundere nature does not allow her to show it. One day, after another divestment, Wataru decides to end her current life and begins to distance herself from the object of her sighs. Only then does Aika realize that she is beginning to miss him.
Do I recommend it after the first episode? Yes – interesting start. From the beginning I liked all the heroines that have appeared so far. Aika's reactions are super-sweet. The visuals are typical of the Studio Gokumi . Great attention to the details of the characters, the backgrounds indoors are quite simple and rather unimpressive, but the outside is quite the opposite. Great voice acting. The series definitely stays with me until the end.
Do I recommend it after the last episode? Yes – The characters really appealed to me. The reactions of the main heroine were super cute. There was also a lot of development in her character and her life perspective. For those who have read the original, this will probably be a mediocre adaptation. Even for me, i.e. someone who is not familiar with the original, it was apparent how much the plot was rushing forward. That doesn't change the fact that I found the whole thing enjoyable to watch.
Finalny werdykt
Final evaluation
---
Masamune-kun no Revenge R / 政宗くんのリベンジR
Makabe Masamune experienced trauma as a child due to rejection by a beautiful girl from a wealthy family – Adagaki Aki. In the process, she gave him a nickname appropriate to his appearance at the time – pig's foot. Over the following years, Masamune completely changes his lifestyle, which also results in a drastic change in his character. After transferring to a new high school, he unexpectedly discovers the fact that Aki also attends it, and to make matters worse – she has been left with the habit of giving derogatory nicknames to all the boys who professed their love for her, making her quite popular among her female peers. Makabe decides to take revenge on her former object of affection, and slowly begins to devise a plan to show the true face of Aki.
Season 2
Do I recommend it after the first episode? Yes – It took me a long while to grasp the threads and connect what was left in my memory. Due to the fact that season one premiered more than six years ago, this was not a fairly easy task. However, after a few minutes I remembered the most important things. An interesting beginning – the characters are on a trip to France and visit Paris. There they meet a girl who is fascinated by Japan and tries to draw her manga-inspired comics. Unfortunately, she lacks knowledge of Japanese high school students, so she asks the main couple for help.
The overall design is aesthetically pleasing. The character design is very nice and detailed. It's also nice to hear that the entire cast of the first season is returning in the sequel.
Do I recommend it after the last episode? Yes – I was a bit unsurprised by the kind of events that took place in season two. More drama and some plot twists. Definitely on the plus side. The final score would probably have been one stick higher had it not been for the fact that the action accelerated to staggering speeds near the end. The ending was satisfying, but if the series had had at least one more episode, the finale would have made a much bigger impression on me. Either way – well worth a watch.
Finalny werdykt
Final evaluation
---
Kanojo, Okarishimasu 3 / 彼女、お借りします3
Kinoshita Kazuya is dumped by his girlfriend. He can't accept this fact and in despair finds a website offering the service of renting a girlfriend for a modest 5,000 yen per hour. In an act of desperation, he decides to take advantage of the offer and the very next day the beautiful and charming Mizuhara Chizuru appears before his eyes. However, the boy quickly discovers that it's all just a game and in her eyes he's just another customer, so he makes a negative comment visible to the other service recipients. The next day, during a visit to the aquarium, he decides to tell her the truth about what he thinks of it all – this reveals Chizuru's true character. Moments later, the boy receives a phone call informing him that his grandmother has ended up in the hospital – due to the fact that his time with Chizuru is not over yet, he takes her with him and introduces her to his family. Ironically, Chizuru's grandmother is also in the same hospital….
Sezon 3
Do I recommend it after the first episode? Yes – No change from previous seasons. I look forward to the next episodes.
---
AI no Idenshi / AIの遺電子
In the indefinite future, where technological advances have led to the ability to copy the entire map of neuronal connections and the possibility of placing it in an artificial, electronic body, many new threats have emerged. Trafficking in illegally obtained personalities flourished on the black market, so a law was introduced forbidding backups. This hasn't stopped the underground people too much, who have found ways to get around the security measures. Sudou Hikaru is dedicated to solving problems related to the functioning of humanoid robots. Also those affected in some way by criminal activity.
Do I recommend it after the first episode? Yes – the anime initially ended up on my list to check out. AI and the future's quandaries are a very interesting topic, but I feared that this would be another title approaching these issues in a very pretentious manner. Fortunately, I was wrong. From the visual side, it rather doesn't look the best, but the first episode has already piqued my interest in the whole thing quite significantly. I look forward to the next episodes.
---
Watashi no Shiawase na Kekkon / わたしの幸せな結婚
Saimori Miyo was the child of an arranged marriage. After her mother died, her father remarried another woman. The result of this union was a second daughter, Kaya. From then on, Miyo's life was reduced to that of a servant. After years of inhumane treatment, Miyo learned to keep her head down, hide her emotions and obey every order. She is married off to a military captain called Kudou Kiyoka. Rumors spread that he is so cruel that every one of his potential wives has run away. The girl does her father's will without hesitation, even though she already had someone she had a special affection for.
Do I recommend it after the first episode? Yes – A start filled with emotions. Good direction, great voice acting. Great written characters, really nice visuals. I am generally not fond of historical settings, but I don't really dislike it here. I definitely look forward to the next episodes.
I recommend better subtitles from Zafkiel.
Do I recommend it after the last episode? Yes – a good and satisfying romance with well-written characters. Season two has already been announced, so all that remains to be done is to wait for the further fate of the characters.
Finalny werdykt
Final evaluation
---
Temple / てんぷる
Akagami Akemitsu's father was famous for surrounding himself with many women. The boy greatly admired his father as a child. Unfortunately, as he grew up, rumors began to spread about him. Akemitsu decided not to follow in his father's footsteps and lead a decent life. Over time, he began to exaggerate heavily, completely cutting himself off from the girls around him. One evening, while returning home from work, he is hit by a rice crack. It was dropped by accident by a girl named Yuzuki, with whom he falls in love at first sight. The coming weeks were a veritable horror for Akemitsu. He couldn't think about anything other than the beautiful Yuzuki. At one point, realizing his weaknesses, he makes a radical decision. He abandons school and work to become a monk. Thanks to his uncle's connections, he is sent to one temple to receive proper training. Once he is there, it turns out that the monastery has been converted from male to female. In addition, he meets someone there whom he did not expect even in his dreams….
Do I recommend it after the first episode? Yes – what a wonderful start. It's like being taken back in time twenty years. It's shaping up to be a superb romantic comedy with lots of perfectly incorporated, nice fanservice and well-written characters. Brilliant voice acting. The opening song also sounds very nostalgic. Studio Gekkou has done a sensational job here, as the whole thing also looks great in every possible way. Backgrounds, character designs, detail and animation. Grand Blue from Yoshioka Kimitake appealed to me on average. I was not very entertained by the humor and the focus on alcohol. In the case of Temple – this is exactly what I am looking for. I look forward to the next episodes!
---
Liar Liar
Shinohara Hiroto arrives on an island with a huge campus to start school there. This was not his dream. He set himself the goal of finding a certain person. He worked hard to be able to be there and finally succeeded. However, this is no ordinary school. Everything is resolved through various types of games and activities related to them. On the very first day, he accidentally defeats the strongest contestant. He doesn't realize that Saionji Sarasa is a girl descended from the family of the island's founders and the local academy….
Do I recommend it after the first episode? Yes – but I have slightly mixed feelings. At first glance, everything seemed really well executed (except for the song used in the opening, which just irritated me). The character designs look sensational. The backgrounds could be a little nicer. Kuramochi Wakana in the role of the main character comes off phenomenally. I was worried about the character of the main character, but even here I experienced a positive surprise. The mixed feelings I mentioned are about the games themselves. Right now this element is just simply not appealing for me. In any case, everything else was good enough that the series stays on my watch list..
---
Best Openings and Endings – Summer 2023 Anime Season
It's similar to the year-end recaps, namely – I recommend what I consider awesome in my opinion. Below is a list of my favorite songs from the openings and endings (all of them I consider noteworthy, but the ones I particularly love are marked in bold, while the ones I consider as even more outstanding are marked in green, bold font). The scheme is clear, but I will clarify it:
Artist – Title (Artist in romaji – Title in romaji) | Anime Title
Openings:
愛美 – 煩悩☆パラダイス (Aimi – Bonnou Paradise) | Tenpuru
石原夏織 – Paraglider (Ishihara Kaori – Paraglider)| Yumemiru Danshi wa Genjitsushugisha
大橋彩香 – Please, please! (Oohashi Ayaka – Please, please!) | Masamune-kun no Revenge R
May`n – LIES GOES ON | Liar Liar
Aqours – 幻日ミステリウム (Aqours – Genjitsu Mysterium)| Genjitsu no Yohane: Sunshine in the Mirror
メガテラ・ゼロ – 誰が為 (Megatera Zero – Dare ga Tame) | Mononogatari 2nd Season
みみずく&ふくろう, 夢見クジラ – 剣花 (Mimizuku & Fukurou, Yumemi Kujira – Kenka) | Nanatsu no Maken ga Shihai Suru
nano.RIPE – 光のない街 (nano.RIPE – Hikari no Nai Machi)
Bradio – ファンファーレ (Bradio – Fanfare) | Jidouhanbaiki ni Umarekawatta Ore wa Meikyuu o Samayou
Endings:
涼本あきほ – #夢は短し恋せよ乙女 (Suzumoto Akiho – #Yume wa Mijikashi Koi Seyo Otome)| Yumemiru Danshi wa Genjitsushugisha
愛美, 芹澤優, 山下七海 – いつかは満月のように! (Aimi, Serizawa Yuu, Yamashita Nanami – Itsuka wa Mangetsu no You ni!) | Tenpuru
朝日奈丸佳, 上坂すみれ – カルチャーギャップ・テンプテーション (Asahina Madoka, Uesaka Sumire – Culture Gap Temptation) | Tenpuru
マサヨシがめがねを忘れた – メガネゴーラウンド (Masayoshi ga Megane o Wasureta – Megane-Go-Round) | Suki na Ko ga Megane o Wasureta
ChouCho – twilight little star | Masamune-kun no Revenge R
saji – フラッシュバック (saji- Flashback) | AYAKA